Today began day 1 of week 1 of my training for my very first full 140.6 mile triathlon,
Ironman Texas 2015
. The race happens to fall on my birthday this year, so there was no way I wasn't making it my first one!
Training for a 2.4 mile swim, 112 mile bike, and 26.2 mile run, as you can imagine, takes a lot of time and dedication. Thankfully, with no kids and a lot of money invested in to this sport already, I have both!
Triathletes can be slight gluttons for both punishment and data overload. There are those who train with heart rate, power, speed, cadence, turnover, and any number of other track-able, recordable data they pick through with fine-toothed combs to glean absolutely every bit of information they possibly can out of it. That works for many people. It doesn't, however, work for me. I like to stick to the basics and gauge improvement based on simpler metrics such as better overall pacing, increased speed and improved recovery based on how I feel. (I do have a heart-rate monitor for indoor bike workouts so I get "credit" for it and can monitor my zones/effort since my trainer is cheap.)
Enter the
Super-Simple Ironman Training Plan
. This plan, available free online by Matt Fitzgerald, is purposefully simple and easy to follow. It is 6 days a week, including 3 swims, 3 bikes, and 3 runs a week. The workouts vary in format- interval, tempo, and endurance workouts are mixed throughout. However, an athlete doesn't need the latest and greatest watch (I'll take a
920xt
if anyone wants to give me a birthday present, though!) in order to complete the workouts.
Example page- click the link for the full plan!
I started my plan today! Since it's New Year's Eve this week, I moved a workout to my normal "rest day" and will have to shift things a bit, but again, that's the benefit of using a simple plan. I have a solid base built up from last season, so these first few weeks are lower than what I typically would do.
Marked on the calendar- it's official!
Despite this, I'm savoring it! I am adjusting to waking up early in the morning to get things done so I'm not whizzing away on the trainer while Bryce is trying to watch TV, or so we can make and eat dinner together in the evenings. I like sleeping in, but I also really like being
done
when I'm done at work for the day.
I am getting up at 6am (not too bad!) and doing bikes and runs at home, and swims at
Barton Springs
.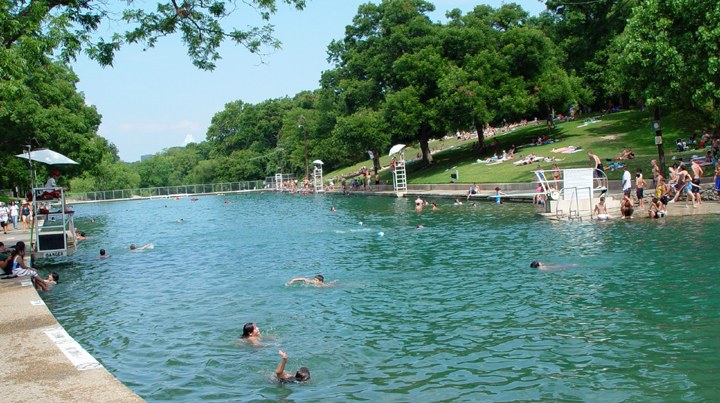 Not too shabby for a free pool, right? :)
The Springs aren't that much further to drive from where I work. They're free during the winter and open at 5am, which is perfect. Swimming there is popular with triathletes, because although it's a structured pool with no boats, it's similar to open water since it is a natural spring without lane ropes. Bonus- it's 68 degrees year-round, so swim training for free in the winter is possible without a wetsuit. (I won't lie, I will probably still wear mine. I hate cold water!) Unfortunately, it is just not logistically feasible to make it here 3x a week, so some yardage is just going to have to be sacrificed. However, I am a confident swimmer and am not worried about completion, but rather just concerned with maintaining swim fitness and familiarity in the water. Whenever I can, I also plan on taking Bryce with me to Lake Travis and having him follow me in a kayak while I swim 2 miles. Although this isn't perfectly ideal as far as overall training bulk, I think it suits my needs and current abilities just fine. I may not be the first one out of the water, but I'll be on track to finish in a time I'm happy with and still have gas for the bike and run.
Training on the bike trainer is pretty boring, but I've got TV shows saved up. I'm considering renting a full season of something from the library so I have something to look forward to and pass the time with. It's tedious to drag my bike and trainer from the office to the living room for TV as well, so hopefully this week I will have a small TV my bestie sent me set up in the office with the Playstation for DVD watching. My very own "pain cave." Not too fancy, but it'll get the job done without waking Bryce and the dogs up every morning! My long rides on Saturdays will easily be outdoors, thankfully, including the
Shiner GASP
for my 100-mile ride!
Running, thankfully, is easy to get done in and around Austin! Most mornings, I will probably just take a jaunt down my county road to where it meets the Williamson County Hike and Bike, or drive to Brushy Creek Lake Park and then shower at work (I have a shower at work- yay!) I also am typically pretty motivated to run any time of day when it's only 5-7 miles, so if I bring my things with me and run on the way home, that's OK too. I got a sweet pink head lamp for Christmas that includes a flashing back red light as well. It fits around a hat/visor/my head AND around my bike helmet and is much brighter than my tiny little cap light I was using!
I also got rid of my Brooks and purchased a pair of Zoot shoes! The Brooks were OK, but when I finished the marathon a few weeks ago, my feet felt like they were broken and they only had 212 miles on them! I wanted a more breathable, triathlon-friendly shoe anyhow with less padding, so I found the Zoots (on clearance!) and am in love so far! The inside feels just like a sock, since they are meant to be worn sockless. They are a one-piece upper with elastic laces, slip on in seconds, and have drain holes on the bottom for excess water! They're kinda ugly, but they're growing on me!
Why the black, Zoot? C'mon!
Lower on my list than working toward this new goal of 140.6 miles is getting in to what is likely the best shape of my life, simply from the sheer volume of workouts! I always tone up and slim down with marathon training (you burn a bazillion calories on a 20-mile run. It's science) so adding the swimming and biking to that will probably (hopefully!) result in great things. I'll also be less likely to injure myself, since cross-training is the name of the game. I face more chronic issues with pain and tightness when I'm running only vs. triathlon training. Since I want to see the results in the end, I took a "before" selfie this morning in the mirror. (Bryce was still sleeping and the dogs were no help.)
Start: 154lbs, 30in waist, horrible color coordination skills. (Those PINK SHORTS, though! Love!)
I'll do an "after" as well, and maybe even and "after after" once the race is done, because after 14-15 hours of endurance, there's likely going to be a difference!
I am really looking forward to this whole process. I've been kind of aimless for a few months, despite marathon training, because running only is boring. I like having a structured plan that pushes me to the limit, but leaves time for me to be with people and do the other things I love. It's December and January in Texas, y'all- that's hunting season! You'd better believe I have my bike in the back of the truck for a ride after a morning in the stand. :)
I have other hobbies besides triathlon- look at my first buck!
19 weeks and 5 days until it's here. Ironman Texas 2015, and the day I turn 28. If anyone wants to join the campaign to get
Mike Reilly
to sing me "Happy Birthday," as I cross the finishe line, I won't be mad!